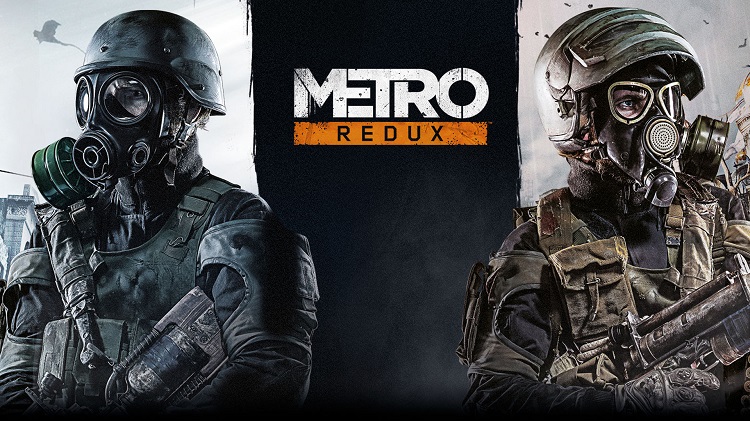 Metro Redux offers a remastered visit to post-apocalyptic Moscow
Filed inside:

Games
The Metro series is a much different experience from the post-apocalyptic open-world of Fallout, and unfortunately with the original title being "aged," a lot of you out there who were unaware of this series have missed out.
Thankfully, developer Deep Silver has planned a "Redux" on the two titles, bringing them into the current generation of gaming.  The Metro series, based off of literature by Russian author Dmitry Glukhovsky, invaded interactive entertainment in 2010 with the release of Metro 2033, and then again in 2013 with Metro: Last Light.
In the Metro universe, individuals have taken refuge in Russian subway systems, turning them into massive, defensive fortresses. The twisting tunnels and miles of endless tracks provide the perfect cover from the radiation above, while allowing individuals to make their way from camp to camp "safely." It's a story driven experience that needs to be experienced, and thanks to Deep Silver, any of you who missed out will be able to appreciate the series in all its upgraded glory.
Both titles released on Xbox 360 and PC, with Metro: Last Light finding additional fans with its unveiling on the Playstation 3. Sadly, one of the main complaints from Deep Silver, and fans alike, was the severe lack of powerful hardware in these consoles, forcing them to port their vision of an irradiated Russia that was visually downgraded in comparison to the PC version.
The Xbox One and Playstation 4 have given developers a chance to reinvigorate the series, allowing gamers to experience the Metro universe in intense detail, breathing new life into the "ugly" console versions of the past. Deep Silver promises that Metro Redux will feature two graphically overhauled titles, offering up an immense visual difference between the last console generation and this one. However, it is unlikely that this graphics remix will look much different on PC, considering its full potential has always been achievable on that particular platform. It may see a small bump in quality, but the real difference in eye candy will be prevalent on consoles.
The majority of Metro Redux is visual changes, but developers did work a little bit on some of the gameplay annoyances, specifically in Metro 2033. A lot of gamers complained that the shooting mechanic in the first title was loose and difficult to get into. This issue was remedied in Metro: Last Light. Deep Silver has tweaked and fine-tuned the system in Metro 2033 to help it more closely resemble its sequel, so those of you who couldn't get past this glaring annoyance may finally be able to enjoy Metro 2033's beautifully written storyline.
Metro Redux will also include every piece of DLC for Metro: Last Light, and the Ranger Mode DLC for Metro 2033. This is welcome news to anyone who enjoyed Ranger Mode, which is hailed as the definitive way to enjoy the Metro series. This particular mode eliminates the HUD, makes bullets more scarce, and puts you into a more immersive situation where choosing the correct path and making every shot count means all the difference between survival and death. Developers have promised some other gameplay tweaks, but left the already immensely enjoyable experience fully intact and relatively unchanged.
The complete Metro Redux is set to hit stores August 26th at a lower price point of $49.99. You can also purchase each title individually if you prefer, for $24.99 each. Steam will also offer a special price point to anyone who already owns either title, offering them a heavy discount for each release at $14.99 each. We haven't heard any news pertaining to a new release in this iconic series, but one can't help but wonder if this is Deep Silver's way of getting comfortable with the development kits of the PS4 and Xbox One, while offering fans a refresher course on the series so far.